A Former Star Keeps On Shining
If you tuned in to the first season of the rebooted American Idol, Laine Hardy is a name you are sure to recognize. The Louisiana teen first wowed the judges with a Band of Heathens cover during the auditions, and earned himself a ticket to Hollywood.
Although it was clear that Hardy had talent, he was eventually eliminated before reaching the Top 24. At the time, judge Luke Bryan admitted that they were unsure if eliminating Hardy was the right choice.
"We don't know if we're making a mistake," he said.
Since then, Hardy has been hard at work developing his craft, and released his debut album, In the Bayou, in 2018.
In the Bayou – Laine Hardy https://t.co/HnjBL90H69

— Laine Hardy (@TheLaineHardy) May 19, 2018
His Friend's Lovely Performance
With Hardy's recent success in mind, he was likely the last person the Idol judges expected to see show up for the the Season 2 auditions. But he did just that, though not with the intentions to compete, but rather, to support a singing friend.
Ashton Gill, the sister of Hardy's best friend, was actually the one auditioning, and had asked Hardy to accompany her on guitar as she sang Chris Stapleton's "Broken Halos." The judges were stunned as soon as they saw Hardy enter the room, and rushed over to him to give him welcoming hugs.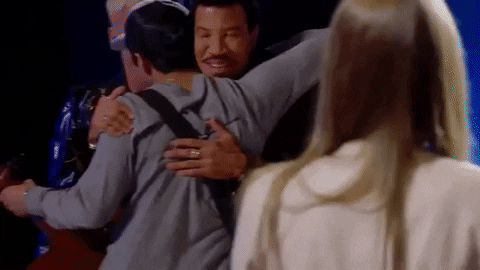 After the judges' reunion with Hardy, Gill sang a short snippet of "Broken Halos."
Bryan and the other judges were impressed with Gill's talent, with Bryan praising her for "how country" her voice sounded. But they admitted that she seemed nervous and a bit pitchy when she sang.
Despite that, they all chose to give her a golden ticket and send her on to Hollywood.
Begging Hardy To Sing
But the judges weren't finished there…they desperately wanted to hear Hardy sing as well, and encouraged him to audition on the spot. Even though he had never intended to audition, Hardy decided to go along with the coaches wishes, and performed a cover of "The Weight" by The Band.
As soon as he opened his mouth to sing, the judges were blown away by Hardy's newfound sense of confidence. When he competed on Idol the previous year, it was his nerves and lack of belief in himself that was his downfall, and he had vowed to work on them so he was less shy on stage.
I liked Laine Hardy too. Kinda shy but a good voice.

— Therapy4Me (@Therapy4Me) March 13, 2018
From just the short performance Hardy delivered for them, the judges could tell that he had accomplished exactly what he set out to do. With no hesitation they thrust a golden ticket at him, and encouraged him to go to Hollywood with Gill.
It took some convincing, but Hardy finally agreed. He got the second chance of a lifetime!
Tune in to the video below to see the outstanding audition that landed both him and his friend Gill in Hollywood. It was such a magical moment!